Where has the time gone? I posted the last entry in my Favorite Films series back in November. It's now almost the end of February, and I'm just getting around to posting #5! Yikes. Apologies all around, I must say. Chalk it up to general laziness and other work getting in the way. But mostly laziness. Please forgive me?

And with that, a little refresher on the list so far...
10. 2001: A Space Odyssey
09. The Passion of Joan of Arc
08. M
07. The Bicycle Thief

06. Mishima: A Life in Four Chapters
ON TO NUMBER FIVE!  Which is...
#5    -   Apocalypse Now         FRANCIS FORD COPPOLA, 1979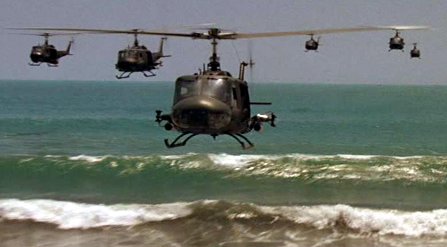 The greatest war film. The most grandiose action film. A haunted, dazzling, head-spinning abstract portrait of a psychological meltdown born from the dark heart of man. Apocalypse Now is all these things and more, a blistering masterwork by Francis Ford Coppola that topped off an unparalleled run of straight masterpieces throughout the 1970s that included the first two Godfather pictures and the superb The Conversation. Directing one of these films would render one a master; directing all four of them - in the span of eight years, no less - grants one the title of "genius."
        I was 14 when I saw Apocalypse Now for the first time. Up until that point I had not been exposed to the vast expanses of classic cinema, nor had I even discovered the wonders of films made before 1990 that weren't Mary Poppins or The Wizard of Oz. I could hardly have picked a better film to start off with; the hazy opening frame of palm trees set ablaze to the world-ending Doors tune "This is the End" immediately awakened in me a cinematic longing I had not been conscious of. The hot crimson flames obscured by thick clouds of napalm, the scene then overlays footage of Martin Sheen's curious, troubled eyes with a whirling ceiling fan, foreshadowing the sickening omnipresence of the helicopters that act as the mechanized killing machines to the equally barbaric human ones. 
      There's almost no need to mention the film's centerpiece scene, one of the most famous moments in cinema, but it truly does amaze each and every time; the dramatic beats of Wagner blaring like a taunting siren of destruction as an army of helicopters lay waste to an entire village. The scene is an operatic act unto itself, a marvel of special effects, sound, editing, and cinematography combined in one epic propulsive movement. If it's even possible, the film only gets better from there, ending in an intoxicating, near wordless visual metaphor that signals both utter annihilation and a warped rebirth, sent back into the dehumanizing jungle of man's heart after a perilous journey trying to defeat it. Apocalypse Now is not the most realistic of war films, but it doesn't try to be. This is something more ambitious and invigorating, more powerful and more timeless, a piece of work infused with the passion and gravitas of artistic expression at its most uncompromised.